About Mark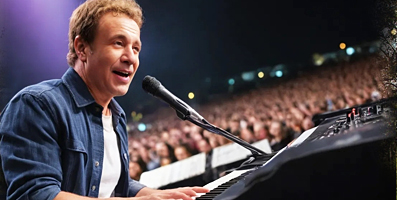 When it comes to writing a great song, Mark has the extraordinary talent to spin a memorable melody and pair it with lyrics that spark the imagination. Mark found the family piano in the living room at the young age of 3 years old, and has been attached to it ever since. His mother, also a musician and performer used to sing for various organizations, and change costumes for each act. During these costume changes, Mark at the age of 6 would perform for the audiences until Mom returned to the stage. Mark gave his first concert at 6 years old. By the time he was 8 he was already writing music and lyrics to his own songs… and by 13 years old had his own band, and started learning the ropes of recording and producing a record.
Mark grew up listening to, performing and appreciating all genres of music, but felt country music speaks to one's soul like no other. The catchy melodies, heartfelt feeling and clever lyrics and stories really tug at the listeners' emotions. "I really love the idea of telling a story, with a memorable melody and lyrics that make you smile, or bring a tear to your eye. Some songs just stay with you a lifetime. Those are truly special."
Mark is a piano and keyboard player, so the songs he writes have a different feel and chord structure than a guitar-written song. Mark takes the piano and incorporates all the different genres of music he grew up with to create a country music style all his own.
Mark has spent many years writing, producing and performing for himself and other artists, as well as writing and producing songs for film and TV.
For Mark Winter, music is how he expresses his life. The happy times, the difficult times and everything in between can be experienced in his songs and music. Keep listening…. ,